Ace Café Rumst

IF YOU WANT TO RECEIVE THE ANNOUNCEMENTS OF THE UPCOMING EVENTS AT ACE CAFE RUMST ... MAKE YOURSELF A MEMBER OF OUR GROUP ' FRIENDS OF THE ACE CAFE' with the following link:
www.facebook.com/chris.v.d.voorde#!/groups/372589949429/
THE ADDRESS IS:
EIKENSTRAAT 191 - 2840 REET BELGIUM
THE NAME:
ACE CAFE RUMST - BELGIUM

IF YOU LIKE TO, YOU CAN BE INVITED TO THE FAST GROWING LIST OF LIVE-GIGS IF YOU MAKE YOURSELF A MEMBER OF MY FACEBOOK-GROUP *FRIENDS of the ACE CAFE RUMST* www.facebook.com/groups/372589949429/
KEEP YOU POSTED AND SEE YOU ALL VERY VERY SOON!!! BAR IS OPEN:
Monday: closed for business
Tuesday to Sunday: at 12:00 h

www.facebook.com/werner.vandevoorde.5
Now also OPEN for business:
ACE CAFE TENERIFE
PUERTO COLON 217
ADEJE
Worth paying my brother Werner a visit!

IEDERE ZONDAG (uitgez. enkele uitzonderingen) tussen 19u en 21u staat er een "Live"-band op het Ace-programma ...om deze jarenlange traditie te blijven behouden, wordt er aan onze lieve klanten een bijdrage van 5 euro pp gevraagd aan de deur en op het terras ... gelieve hier rekening mee te houden aub! Thanks Folks! Grtz, Chris Ace Cafe Rumst / Reet
WELCOME TO THE SITE OF « ACE CAFE BELGIUM RUMST » Est. October 3, 2003 by Chris Van de Voorde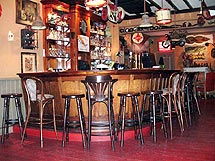 The main purpose of ACE CAFE RUMST - BELGIUM is to make you feel at home...
Having a well-served drink in the compagny of friends while you can enjoy the beautifull decorum of wallpaintings, miniature cars or motorcycles, old publicity material and objects from days long-gone ...some of those deco-pieces are even for sale!
Another purpose is to keep «Live Music» alive!
We present weekly Live gigs to you in the wide range of Blues/Rock, Country & Alternative Country, Bluegrass and Rockabilly in its every form possible..
In 3 words : ROCK and ROLL ! ... THAT is what we built our name upon !
After booking bands over more than a decade now, our name became a sort of a brand...a brandname that now is known in Europe, the USA and even Australia and Brasil !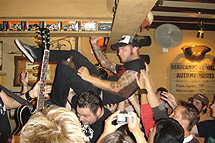 If you're interested in those Live Gigs:
Look to the agenda on our homepage
If you want to be informed about or invited to our live gigs or event, than click on following link and make yourself member of our group «Friends of the Ace Cafe Rumst» http://www.facebook.com/groups/372589949429/
For bands or bookings only ONE (1) central e-mailaddress !! : ace.cafe@telenet.be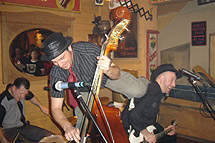 ACE CAFE RUMST is the perfect location to invite your friends or family to, when you're planning a personal party (birthdays or so...) in a cosy atmosphere and some fine music! Talk to us and we'll make you a deal.
What more could one ask for!
You need some more info?
Cellphone : +32 (0)477 582 261
e-mail : ace.cafe@telenet.be