Ace Café Rumst

IF YOU WANT TO RECEIVE THE ANNOUNCEMENTS OF THE UPCOMING EVENTS AT ACE CAFE RUMST ... MAKE YOURSELF A MEMBER OF OUR GROUP ' FRIENDS OF THE ACE CAFE' with the following link:
www.facebook.com/chris.v.d.voorde#!/groups/372589949429/
THE ADDRESS IS:
EIKENSTRAAT 191 - 2840 REET BELGIUM
THE NAME:
ACE CAFE RUMST - BELGIUM

IF YOU LIKE TO, YOU CAN BE INVITED TO THE FAST GROWING LIST OF LIVE-GIGS IF YOU MAKE YOURSELF A MEMBER OF MY FACEBOOK-GROUP *FRIENDS of the ACE CAFE RUMST* www.facebook.com/groups/372589949429/
KEEP YOU POSTED AND SEE YOU ALL VERY VERY SOON!!! BAR IS OPEN:
Monday: closed for business
Tuesday to Sunday: at 12:00 h

www.facebook.com/werner.vandevoorde.5
Now also OPEN for business:
ACE CAFE TENERIFE
PUERTO COLON 217
ADEJE
Worth paying my brother Werner a visit!

IEDERE ZONDAG (uitgez. enkele uitzonderingen) tussen 19u en 21u staat er een "Live"-band op het Ace-programma ...om deze jarenlange traditie te blijven behouden, wordt er aan onze lieve klanten een bijdrage van 5 euro pp gevraagd aan de deur en op het terras ... gelieve hier rekening mee te houden aub! Thanks Folks! Grtz, Chris Ace Cafe Rumst / Reet
WELCOME TO THE SITE OF « ACE CAFE BELGIUM – RUMST » Est. October 3, 2003 by Chris Van de Voorde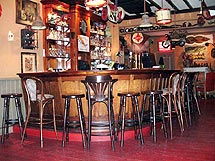 The main purpose of both ACE CAFES in BELGIUM (Rumst and Geel) is to make you feel at home...
having a well-served drink in the compagny of friends while you can enjoy the beautifull decorum of wallpaintings, miniature cars or motorcycles, old publicity material and objects from days long-gone ...some of those deco-pieces are even for sale!
Another purpose is to keep «Live Music» alive!
We present weekly Live gigs to you in the wide range of Blues/Rock – Country & Alternative Country – Bluegrass – Rockabilly in its every form possible..
In 3 words : ROCK and ROLL ! ... THAT is what we built our name upon !
After booking bands, for almost a decade now, through Ace Cafe Rumst, our name became a sort of a brand...a brandname that now is known in Europe, the USA and even Australia and Brasil !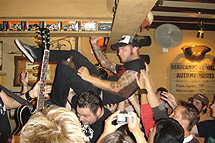 If you're interested in those Live Gigs: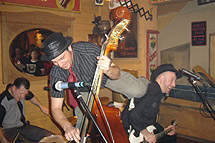 ACE CAFE RUMST is the perfect location to invite your friends or family to, when you're planning a personal party (birthdays or so...) in a cosy atmosphere and some fine music! Talk to us and we'll make you a deal..
What more could one ask for!
You need some more info?
Cellphone : +32 (0)477 582 261
e-mail : ace.cafe@telenet.be